Articles
> What are the top 5 load boards?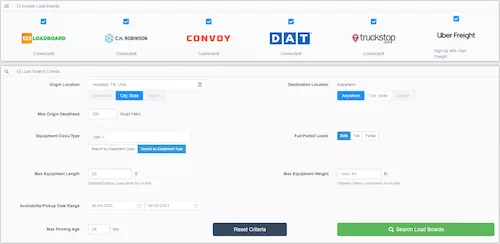 What are the top 5 load boards?
November 21, 2022
When you want to move forward in your trucker career, load boards are so important. They give you the opportunity to find work where previously it would not have been possible. They simply can be a needlessly complex and confusing process. Most importantly, though, load boards help you to get paid and make a living. There are, though, many load boards to look out for today. With so much choice, what are the top five load boards?
Let us take a look. The following load boards rank highly in the industry with good reason. They provide excellent opportunities, longevity in the industry, and the all-important promise of payment.
What are the top five load boards?
TruckStop
The first load board that we recommend you look into would be TruckStop. This has been around for years now, and for a basic rate of $39/month, you can get started taking on jobs and building contacts. It has one of the largest brokerage counts in the industry, too, so you should have no problem finding partnerships.
TruckStop is a vote-winner because it has so many brokers, shippers, and carriers. Whether you are a trucker or an owner-operator, you should not have much issue in locating good opportunities with this platform. However, many of their most useful search and filtering features are locked behind their Pro option. This comes with access to a real-time load board, but it costs $149/month.
Our advice? Start with the $39/month option, build some contacts, grow your confidence, and then upgrade to the Pro tier.
DAT
DAT is arguably the largest load board in the whole of North America. Each day, over 850,000 loads are posted, and some 220 million loads are posted across the year. This shows you the strength of this platform, though it also speaks to the immense competition waiting for you. This is a good platform overall; its litany of search options means you are never stuck for options.
However, one thing to note is that the pricing can be quite significant. For carriers, you will pay around $45/month; for brokers, it can be as much as $139/month. In general, the access and insight they offer on all potential partnerships make this a partnership worth pursuing.
You might find it hard to build a big name for yourself as a total newbie, but you should have little issue finding work once you have a market reputation. DAT is expensive but offers more than enough value for those seeking more comprehensive work.
DirectFreight
Another top option, DirectFreight is a great choice as it can be so affordable. At around $35/month, with no other tiers or extras, DirectFreight offers tremendous monetary value. This is suitable for both truckers and brokers, so you can easily find work here or find partnerships if you run a brokerage instead. It contains useful features, from location-specific searching to detailed load information on all shipments.
You can also vet brokers based on their history, bonds, credit score, and wider authority. Other useful insights from DirectFreight include giving you access to easy app notifications and insights as you drive. For a system that is so well-regarded and competitive, it is surprisingly easy to find work.
Use this to start building contacts, and you can slowly but surely make your name in the industry thanks to the wide-reaching number of people you can connect with.
123Loadboard
As the name suggests, 123Loadboard makes finding jobs as easy as 1-2-3. Simple!
With over fifty million truckloads posted annually, 123Loadboard is a giant in the industry. It offers a free-to-use app and a 10-day trial of its numerous features. That is a great choice; it can give you an easy way to see whether or not the layout and features are for you personally. It also comes with a paid membership program, which provides you with unlimited search functions and notifications. This costs around $35/month, which is good value.
You get some great tools for searching, and reporting tools make it easy to know what brokers you can work with in harmony. The price is very fair, and this makes 123Loadboard definitely worth your time. For those who are just starting out, this can be a worthwhile investment.
Trucker Path
Lastly, we would recommend you also take a look at Trucker Path. This is a popular load bird that sees around 150,000 loads posted per day. It might not match the eye-watering numbers you see with some other load boards, but there is more than enough. Add in the fact it has comfortably over 750 brokers, too, and it is easy to see why Trucker Path is a worthwhile consideration.
You also get an excellent mapping and navigation app, which makes driving around much easier. It is also free, so that should entice truckers on a strict budget. You also get lots of information about brokers, ranging from their credit scores to their history. You can use the map app to find everything from safe driving routes to fuel stops and trip planners. A great tool for almost any newbie!
The above load boards make excellent places to start for truckers and brokers of all experience levels. If you are looking for the best load boards out there to get started with, use the above – given some of them are free, too, you only need to commit your time in some cases. Overall, these are the best options on the market for load board users.
Do you have load board tips of your own? Share them with us on Facebook, Instagram, or Twitter!